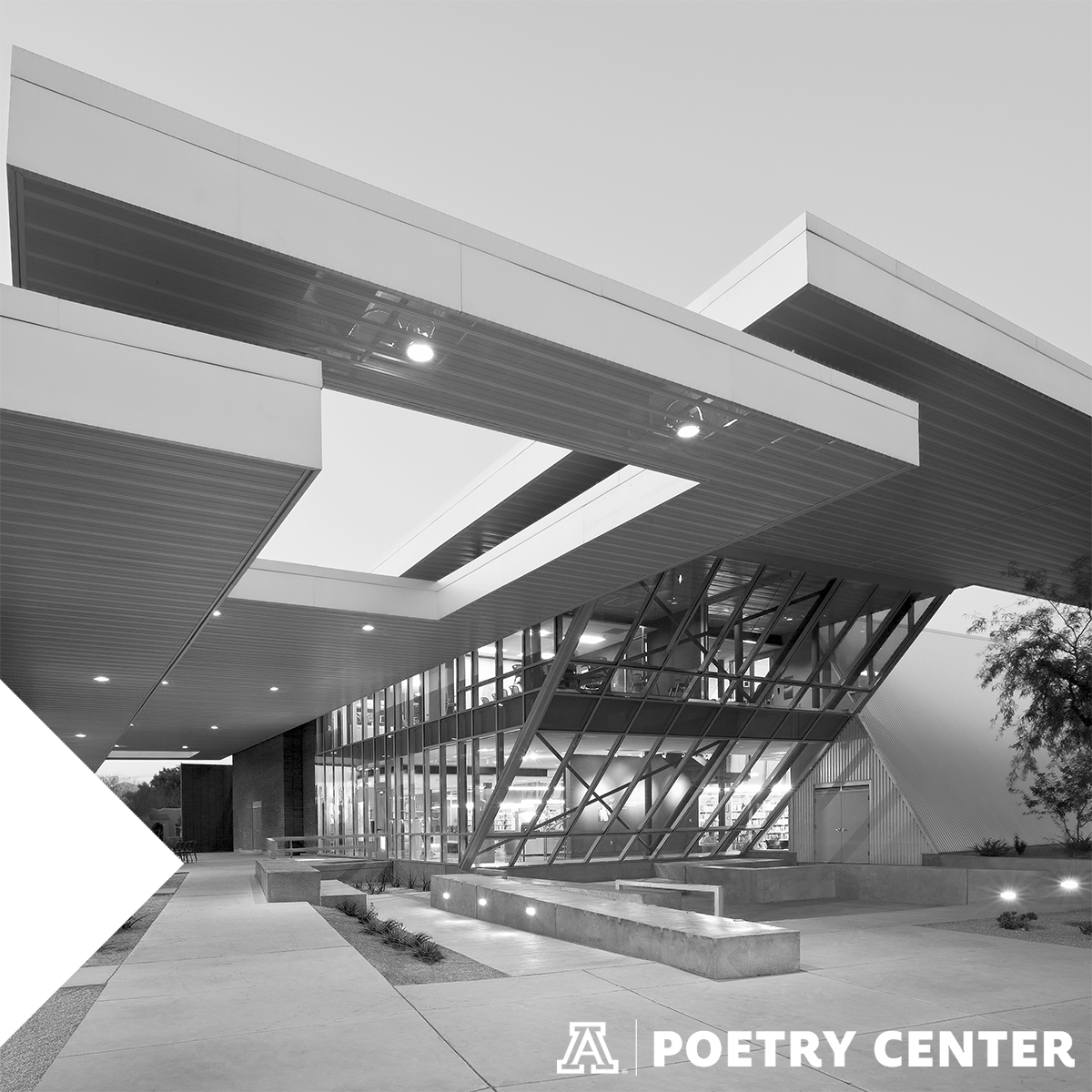 An internationally renowned poetry library, the Poetry Center sponsors numerous University and community programs, including readings and lectures, classes and workshops, discussion groups, symposia, writing residencies, poets-in-the-schools, poets-in-the-prisons, contests, exhibitions, and online resources, including standards-based poetry curricula. An area of special emphasis within the College of Humanities, the Poetry Center is accessible to the public.
LOCATION
The University of Arizona Poetry Center
1508 E. Helen Street
Tucson, Arizona 85721-0150
520-626-3765
520-626-5566 (FAX)
poetry@email.arizona.edu
 HOURS OF OPERATION (THROUGH MAY 7, 2022)*
| | |
| --- | --- |
| Monday | Closed |
| Tuesday | 9:00 a.m. to 5:00 p.m. |
| Wednesday | 9:00 a.m. to 5:00 p.m. |
| Thursday | 9:00 a.m. to 5:00 p.m.** |
| Friday | 9:00 a.m. to 5:00 p.m. |
| Saturday | 9:00 a.m. to 3:00 p.m. |
| Sunday | Closed |
*Starting Tuesday, May 10, we will switch to our summer hours (9:00 a.m. to 5:00 p.m. Tuesday-Friday only). Semester hours will resume on Tuesday, August 23, 2022.
**On Thursdays January 6, February 3, February 17, March 17, April 7, and April 14 the library will remain open until 7:00 PM for our Reading & Lecture Series events. For our calendar of events, see poetry.arizona.edu/calendar.
Upcoming Closures: 
Saturday-Monday, January 15-17: Dr. Martin Luther King Jr. Day
Saturday-Monday, May 28-30: Memorial Day
Saturday-Monday, June 25-July 11: Summer Closure
PARKING
Free parking is available in Zone 1 lots around the Poetry Center after 5:00 p.m. on weekends. Paid parking is also available in the Highland Avenue Garage, across the street from the Poetry Center.
CODE OF CONDUCT
A condensed version of the Poetry Center's Code of Conduct is posted in the Center's library. For a view of our complete Code of Conduct and Poetry Center policies, click here: Poetry Center Code of Conduct.
VIRTUAL TOUR
You can take a virtual tour of the Poetry Center online using our panoramic viewer.